---
MAIN OBJECTIVES
We actively strive to:
• Retain natural and heritage assets
• Restore damaged ecosystems
• Keep housing within present urban growth boundaries
• Ensure planning precedes development
• Retain agriculture as the primary land use east of Main South Road
• Promote sustainable lifestyles
• Plan for climate change
• Achieve legislative backing for the above objectives
TASKS AHEAD:
•Protecting the local environment as best we can from local and wider impacts
•Protecting the coastal zone, from Maslin Beach to Sellicks Beach. The development already underway is of huge concern and is causing enormous disquiet from many residents
•Lobbying the Onkaparinga Council and State Government for wiser future planning. Long-term planning is essential and, so far, the State Government and Council have been very poor at looking beyond a few years.
•Building awareness of the need for planning for Climate Change and Oil Scarcity, and lobbying for greenhouse pollution control.
•Defending the Urban Growth Boundary to provide planning certainty, and resist pressure for township boudary creep.
•Maintaining the State Government's assurances that land to the east of Main South Road will be set aside for agriculture.
•Lobbying for the substantial buffer zones between residential developments and rural and conservation areas.
We need the support of many!
We invite you to
JOIN US
to provide active support, political credibility, and funds to achieve our aims. If you have questions, please
CONTACT US
for answers.
Annual General Meeting 2009

We are pleased to invite all members and friends to our Annual General Meeting for 2009 on September 23rd. The meeting will be held in Waverley House, St Peters Terrace Willunga at 7:30pm. Our guest speaker will be Tina Adamo, the Principal of Galilee Catholic School at Aldinga. The school has a very progressive environmental focus in its education, with the ideal of building "connectedness" and appreciation for the environment right from the earliest school years based on a broadly applied principle of "respect".
---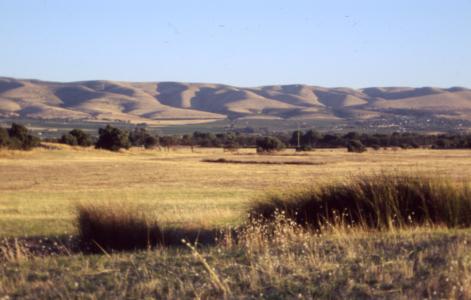 View of the Sellicks Range from Aldinga. This was taken at the site now occupied by the Sunday estate.